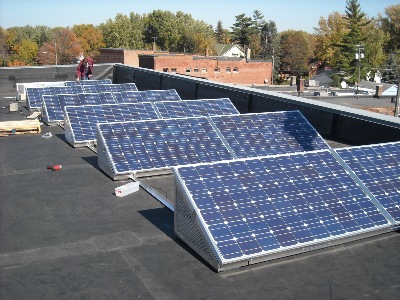 In the fall of 2010 the panels were placed on the hardware roof, they are placed in two rows.

Welcome to the Solar Page!

We are excited at Angvall Hardware to have put into production 48 Sharp 224 Solar Panels. These panels were installed and started operation on December 6th 2010. The 48 panels are located on our roof and are producing 100% of all the electric needs that the hardware store has! This is pollution free power that we are producing and we remain excited.
We had Innovative Power Systems of St Paul install the units along with Fred Holasek and Sons Green house also in Lester Prairie. They have been a very good team to work with.http://www.ips-solar.com is their web address, give them a look.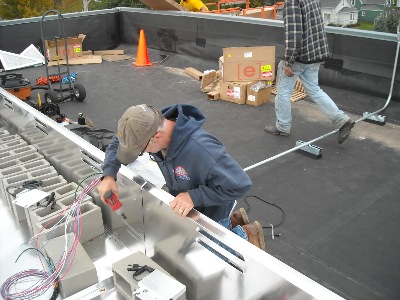 Here is the electrician installing the solar system, note that this system does not penetrate the roof, even the wires that deliver the power are floating on the roof.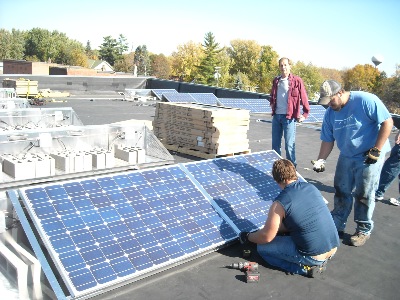 The cement bricks are used for weight on our non penetrating system to keep the panels in place and to ensure the correct angle of the panels.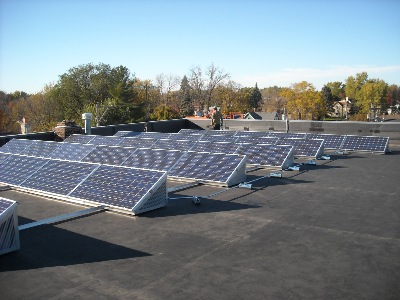 This is a view of the other side of the roof with the completed system, ready to supply us power!

If you wish to see how much electric power that we have made click http://enlighten.emphaseenergy.com/public/systems/CrFM10513 to see our current power production and to see how much power we have made since we started our system~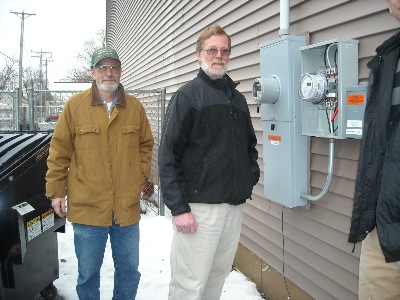 December 6th 2010, Fred Holasek looks on while Eric Angvall throws the switch to start the power flowing from the solar panels!